We will not have classes tomorrow (Friday). The parking lots are an ice rink!!

Update:The Lady Panthers will now play Monday at 6:30 p.m. at Chickasha HS. Tickets that have been purchased will be honored.

ALL tickets for the Area Tournament must be purchased online. There will be NO cash sales at the gate.

Due to weather/road conditions, Lookeba-Sickles will have NO CLASSES tomorrow, 2/24/22.

Due to the impending weather, LOOKEBA -SICKLES schools will hold a Virtual Day on Wednesday, Feb 23. (NO in person classes)JH and HS students will need to check their emails for instructions on GOOGLE CLASSROOM.

Update: Friday's Area basketball game will be played on SATURDAY at 6:30 pm at Chickasha. Tickets already purchased will be honored. Good luck Lady Panthers!

Dress up and celebrate National FFA Week on February 21-25! Monday: Wear your pajamas. 💤 Tuesday: Cowboy day. 🤠 Wednesday: Dress like your favorite teacher. 👩‍🏫👨‍🏫 Thursday: Soccer mom and bbq dad day. ⚽️🍗 Friday: Wear your blue and gold. 💙💛

*Tickets for Regional Tournament games are available: 1.) at OSSAA.com (GoFan) $8.35 per ticket. 2.) $10 cash at the door. *Thursday's games will be played at 6:30 pm and 8:00 pm at Alex.

The only thing better than a doughnut is another doughnut! 🍩🍩 Support your sweet tooth and the Lookeba-Sickles Juniors as they sell Krispy Kreme doughnuts to raise money for Jr./Sr. Prom! Prices are listed next to the items. Contact a junior or a class sponsor before March 1st to place your order. Class sponsors: Sara McLoud and Kaci Garrett. Delivery will be second week in March. Thank you for your support! ☺️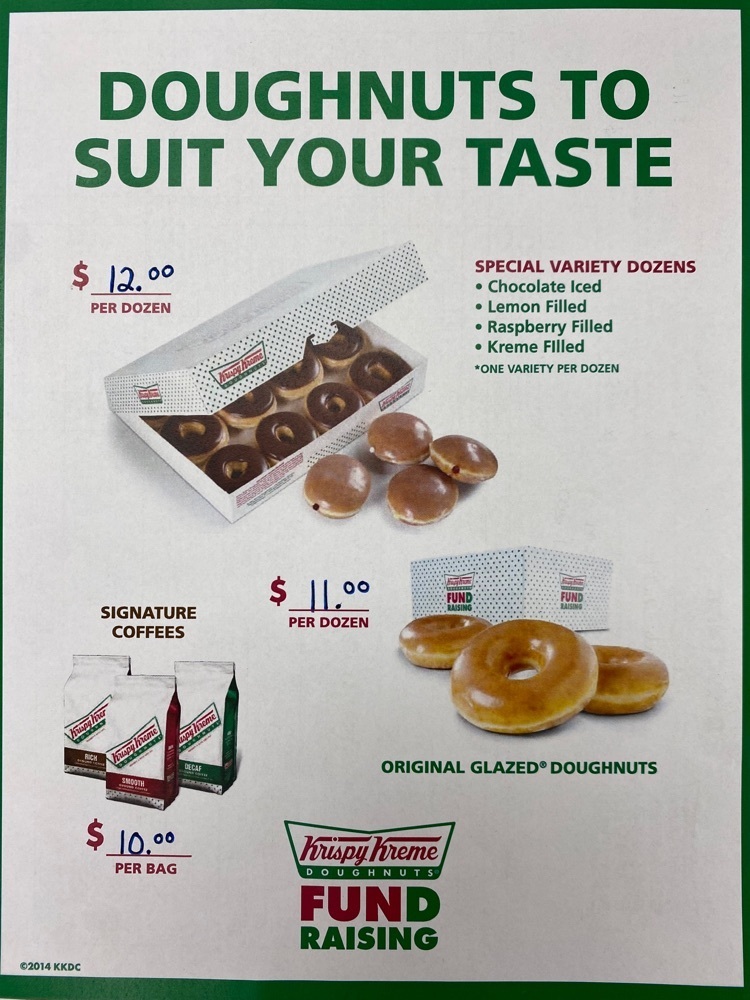 📸📸Elementary Picture Day is February 16th. This includes spring casuals, class groups, and elementary sports and organizations. 🏀🍀

* Valentine deliveries will be accepted at Lookeba-Sickles Schools * Ticket information for Friday and Saturday night District games: * Online tickets may be purchased for $8.35 in 2 ways: *The QR Code at the door * OSSAA.com & scroll down * Cash at the gate $10 * The ONLY passes accepted are from the OSSAA.(blue)

* Valentine deliveries will be accepted at Lookeba-Sickles Schools.

Due to our original Spirit Week being cut short, we will have those activities on Thursday & Friday (Feb. 10-11). *Thursday: Elementary- Crazy Hair & Socks Day. HS- Decades Day *Friday: Panther Pride Day. There will be a "Playoff Kickoff" dance on Saturday, February 12 from 9:00 pm to midnight at the elementary for 7th-12th grade students. Tickets are $5 and may be purchased from Mrs. Barger.

Basketball tickets at all levels for the basketball playoff series will be sold online. The schedule for tickets to go on sale is outlined below. Tickets can be purchased on the OSSAA.com homepage. Scroll to the bottom.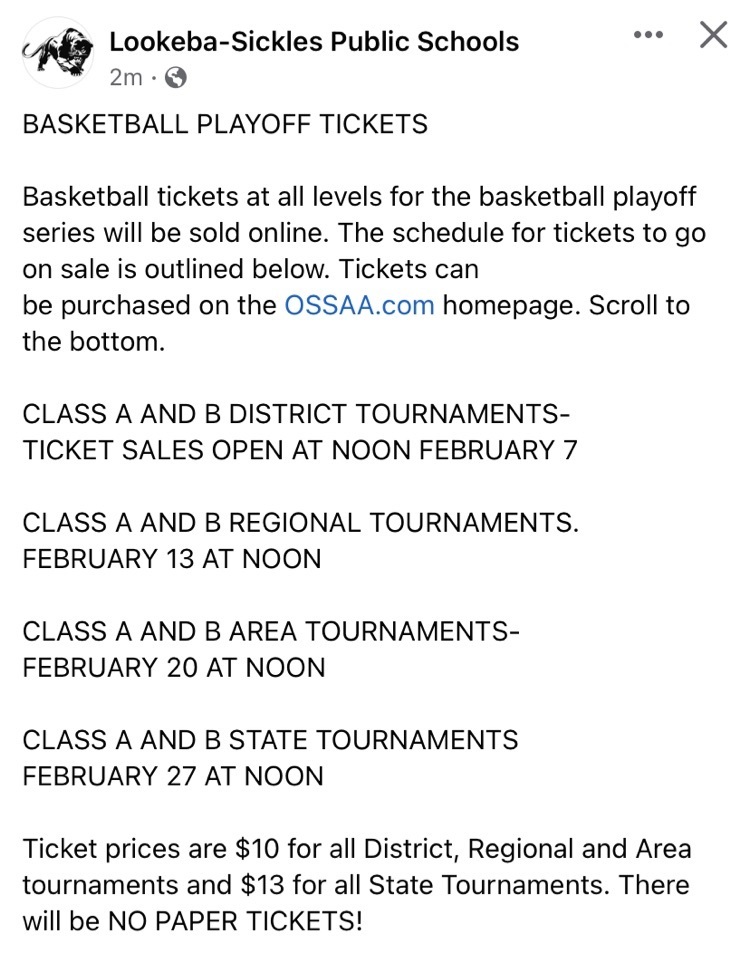 On Friday, February 4th, Lookeba-Sickles will have a SNOW DAY, no classes.

Lookeba-Sickles will have a SNOW DAY on Thursday, no classes.

Lookeba-Sickles School is closed for tomorrow, February 2nd, due to bad weather. This will be a virtual day. Elementary students will be bringing home work packets. JH & HS students check your Google Classroom for assignments.

School will start 2 hours late in the morning (Thursday, January 27) and buses will run late as well. Grade school doors will open at 9:40 am.

L-S Patrons, One of our employees lost their home to a fire a week ago, Salvador & Leticia Rodriguez. We will be taking up monetary donations or gift cards to show our love and support. Donations can be sent to or dropped off at the L-S Elementary. Please make checks payable to Salvador and Leticia Rodriguez. They also have an account at the Bank of Hydro if you would like to make a donation at this location. Please continue to pray for this family in their time of need. Thank you, Lookeba-Sickles Administration & Staff

Friday night's game, January 14th, has been cancelled. Homecoming ceremony will be held at a later date, yet to be determined.